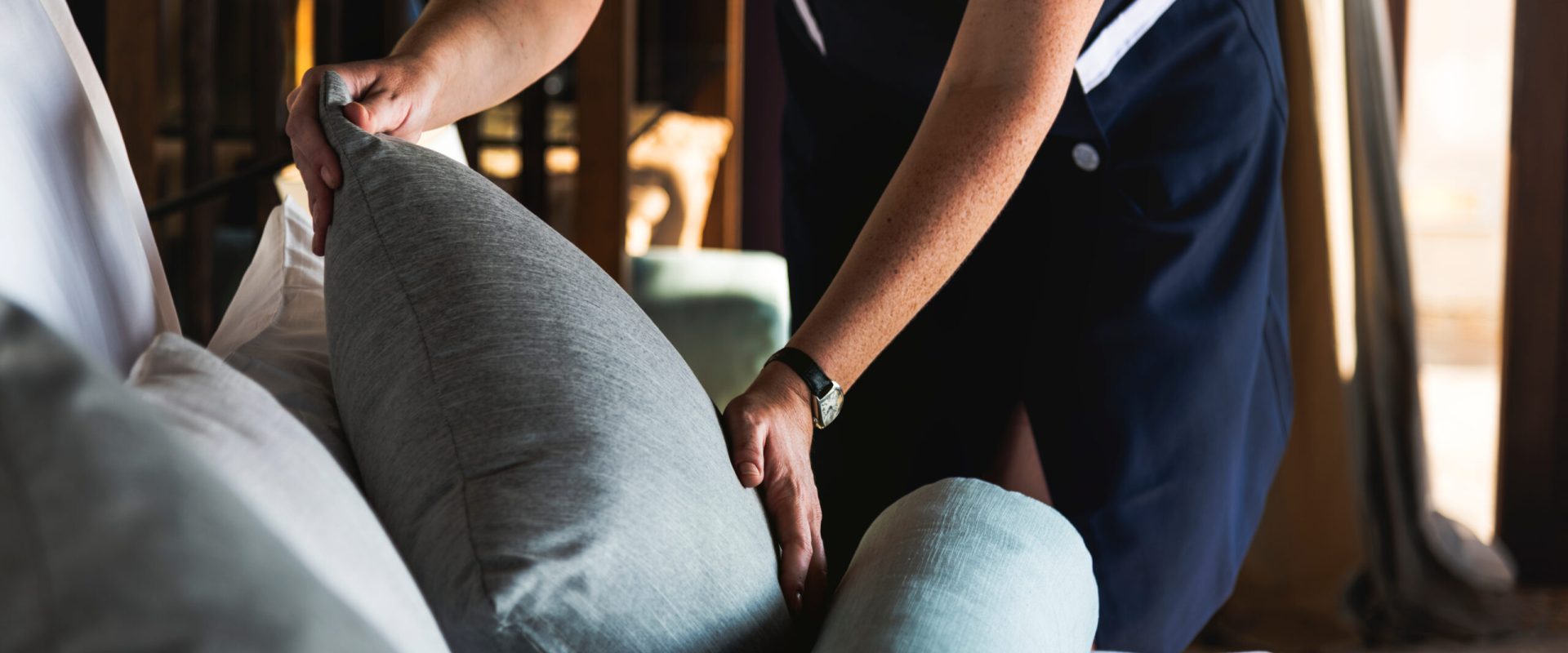 Hotel information:
Several US states require hotels to install digital safety systems and equip employees with alarm buttons.
One of the hotels using Seecure Workplace is located in Miami, and it has approximately 50 employees, and they are using Seecure Workplace as a way to meet the requirements of the law. 
The Miami hotel consists of three buildings, a parking area, and a pool area. Seecure location beacons are installed, both indoors and outdoor, to increase the precision of the positioning. The indoor beacons have been installed and configured to present the location information according to this template: "Building A, Floor 3, rooms 301-305". 
The following groups have been created and configured:
Front desk and restaurant

Housekeeping and janitorial services
The groups have been combined, as the employees work closely together during the day and are often communicating during work. 
Specific settings for the different groups:
All employees have been equipped with the Seecure Alarm Button to make it easier to activate alarms, without having to use their smartphones. 
Housekeeping and janitorial services have lesser access to their smartphone during work and are required to have an easy way to activate alarms during emergency situations. 
Front desk and restaurant employees are the first point of contact when intoxicated guests arrive at the hotel, which makes it desirable for them to have an easy way to request assistance. 
Users with access to the Seecure Web Console are the different managers. However, as the managers are not always in their offices, they decided that the front desk, which is manned 24/7, should be logged onto the Seecure Web Console as well. This ensures that alarms are received regardless of the time of day. 
A geofence has been created around the hotel as a way to ensure smart and efficient distribution of alarms when employees are at work, as well as activating certain features when an employee is at work. 
Alarm settings: 
When a member of the Housekeeping and janitorial services group activates an alarm, it is immediately distributed to the manager's smartphones as well as the Seecure Web Console. This also sends the alarm to the Front desk computer, as a way to ensure that the alarm is received. 
When a member of the Front desk and restaurant group activates an alarm, it is distributed to the management team and the other members of the group. 
The managers also have permission to escalate alarms to professional monitoring services if additional assistance is needed. When an alarm is escalated it is immediately transmitted to professional security employees, who can dispatch guards or emergency personnel to the location. 
This setup can also be applied to, but not limited to, the following business areas:
Schools

Universities

Shopping malls

Strip malls

Office buildings

Hospitals

Supermarkets

Sport arenas

Concert halls

Correctional facilities

Religious centers