Safety Products and Features
Customize your workplace features with Seecure. 
Workplace safety is different for different organizations, which is why Seecure lets you select the features that help your co-workers. Apart from selecting which features, you can also customize how the alarms should be distributed internally, if the alarms should be loud or silent, during which hours the system should be active, and much more.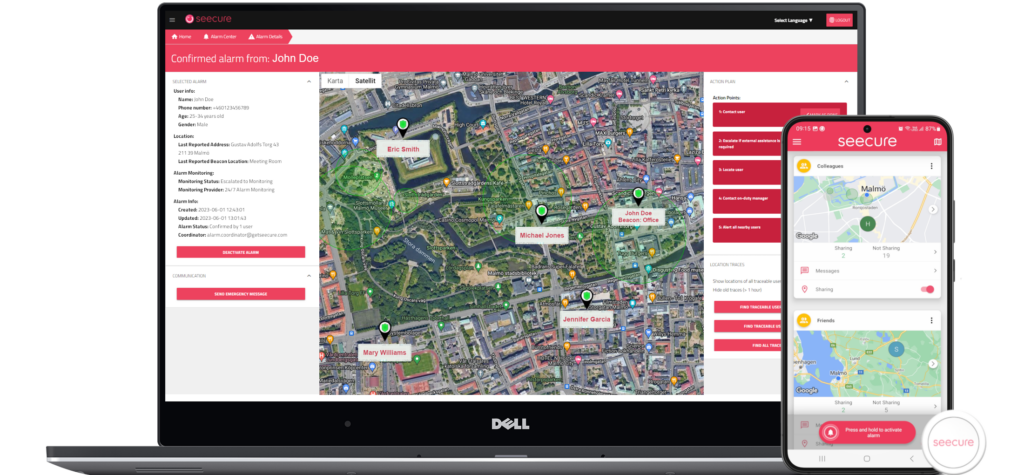 Seecure offers several other features, allowing you to customize your workplace in a way that fits your organization and your workday. 
One of the core features allows you to create geofences around your facilities. The geofences can be customized to make sure that the selected features are active during work hours, as well as how the alarms should be distributed internally.
Additionally, you can add emergency text messages to your system. This allows the administrators to send mass emergency text messages to all users in a group or within a specific location during larger emergencies, such as natural disasters, fires, or shootings.
In specific countries, your alarms can also be connected to professional alarm monitoring. By adding this to your system, you will receive professional security responses during ongoing emergencies.
Even though it might sound overwhelming, Seecure is a rather simple system. Our ambition has always been to make safety accessible for everyone. If you want to hear more about the system or specific features, feel free to contact us.